Launch Online Sales without a Website
Upload a catalogue with your goods, generate catalogue links with different prices, send them to customers and get
sales orders automatically
Suitable for retail, wholesale and field sales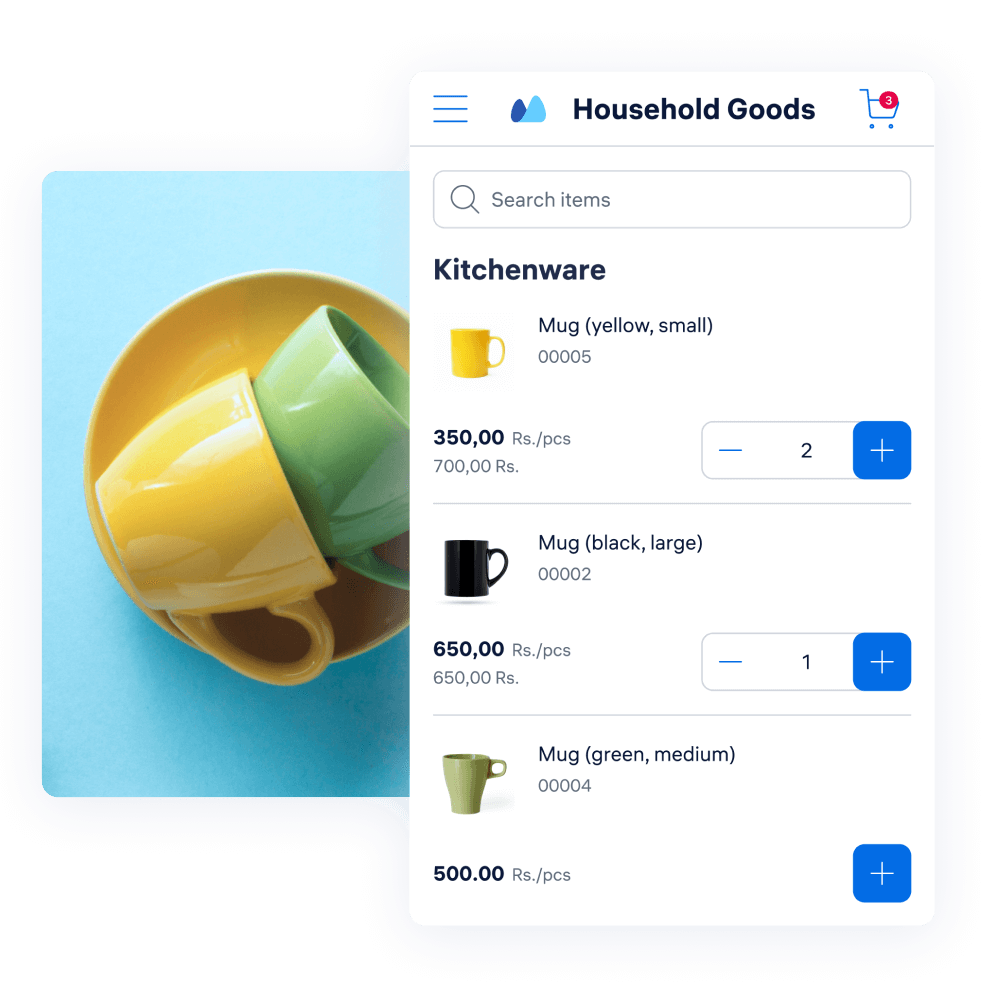 Online Order App is free for all Kladana users now. It'll become fee-paying in fall 2023
4 Steps to Get Sales Orders Fast
14 days — a free trial, then choose any plan suitable. Upload a catalogue with your goods. Launch a browser-based app in Kladana — Online Order App

Choose the goods you wish to add to your online catalogue. Make one public web link or create separate links with different prices for various customer groups

Share links to your online catalogue with customers using social media, messengers, emails, ads, and Google Maps. Customers open the link in a browser page, choose goods available in your stock, and when their cart is ready, they make an order

New orders will automatically appear in Kladana, and then you can process them — issue an invoice to the buyer and ship the goods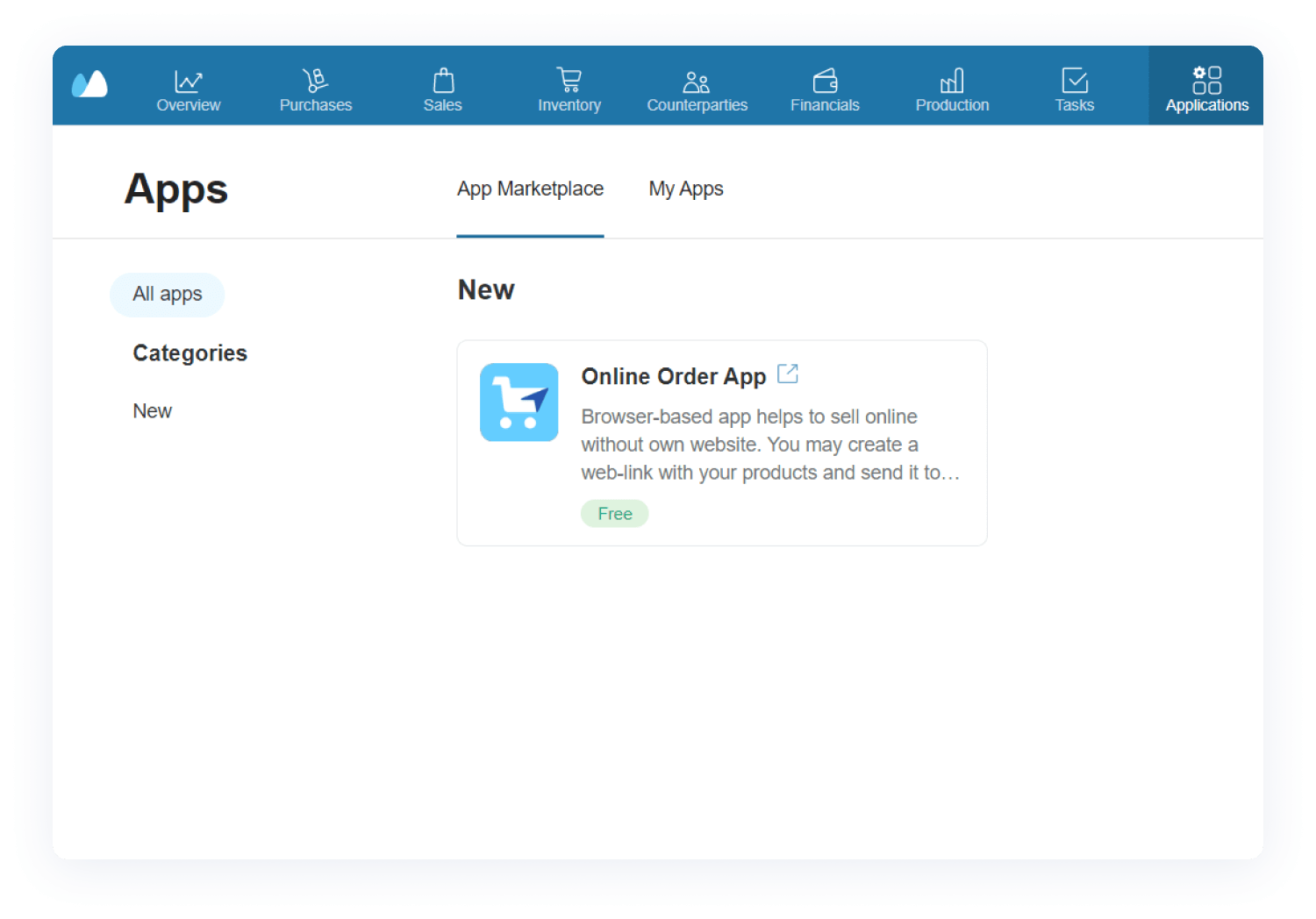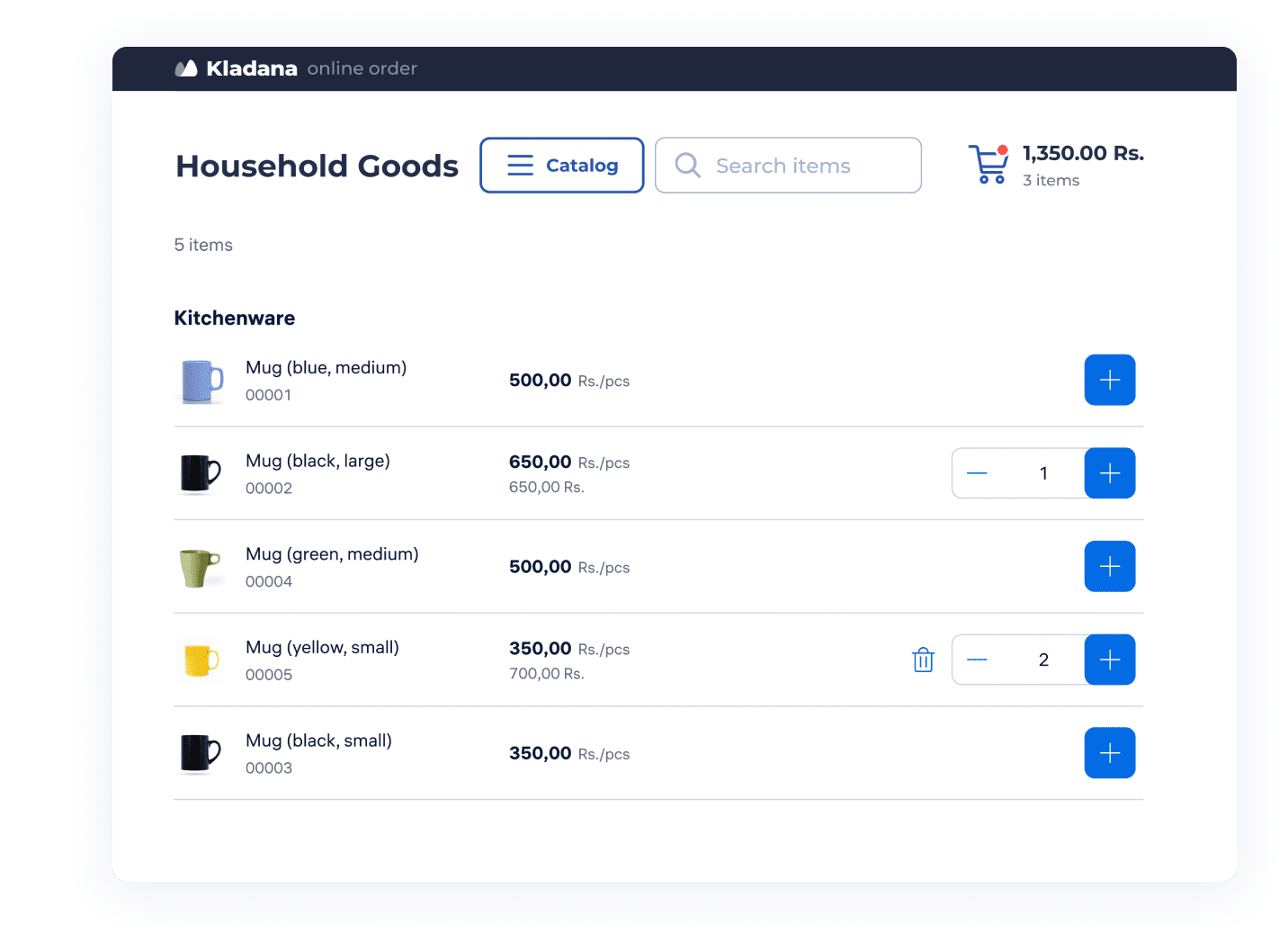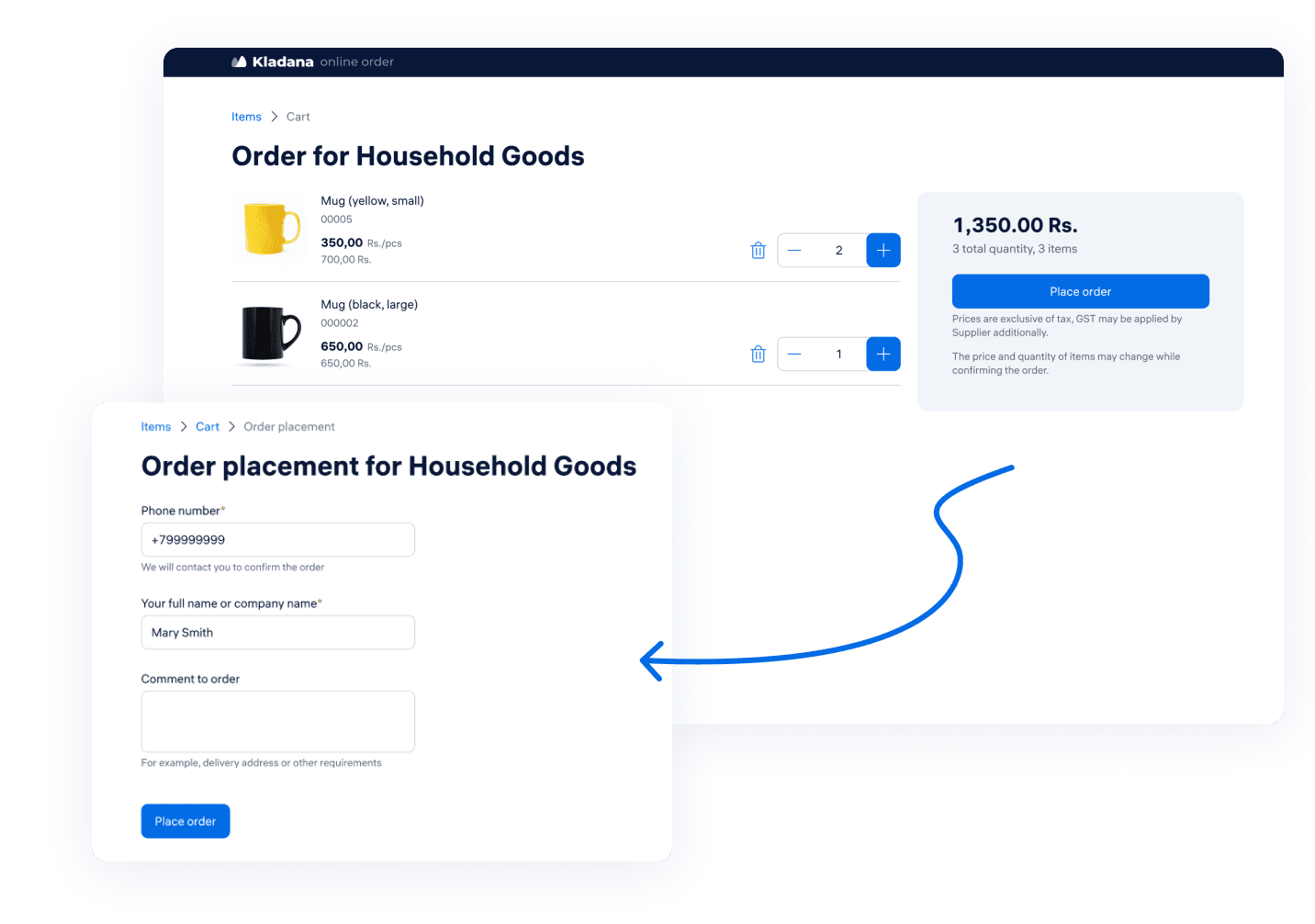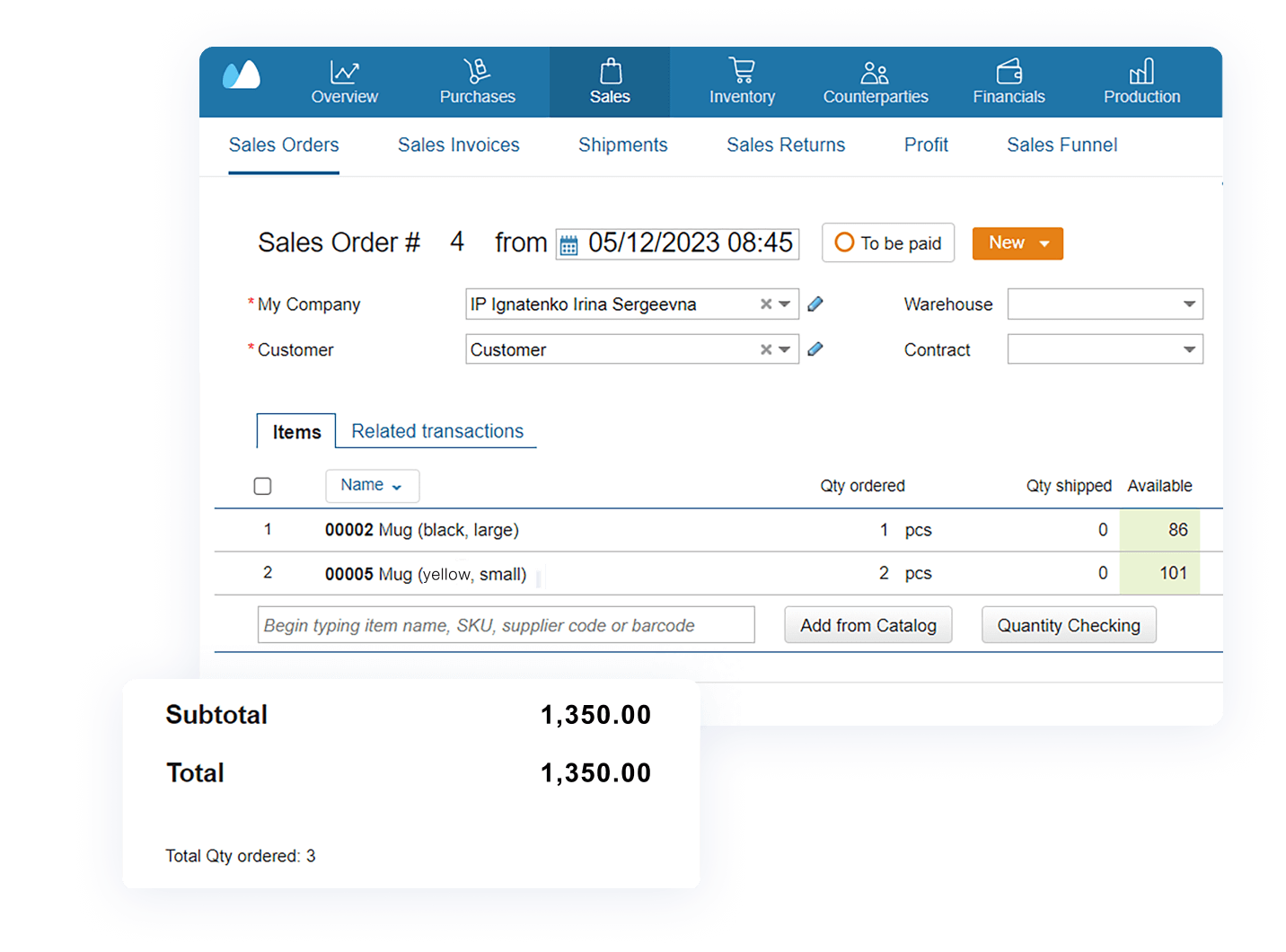 Ways you can Use the App
to Boost Sales
For retail customers:
create a showcase of goods
For field sales:
your sales agents can use
online catalogs
For wholesale buyers:
create a price list
Reasons to Try Online Order App
Profitable
No expenses for creating a website or an online shop. It will take you 15 minutes to make an online catalogue
Multi-Purpose
Suitable for B2B and retail sales.
Your sales representatives may also use it
Easy-to-Handle
Orders are automatically created in the Sales Orders section in Kladana
Accurate
You sell only goods available in stock due to synchronization with your account in Kladana
Customizable
You can make one public link or a few links with different prices for each category of customers: for instance, retail or wholesale ones
Flexible
You can easily change prices, add or remove goods in your online catalogue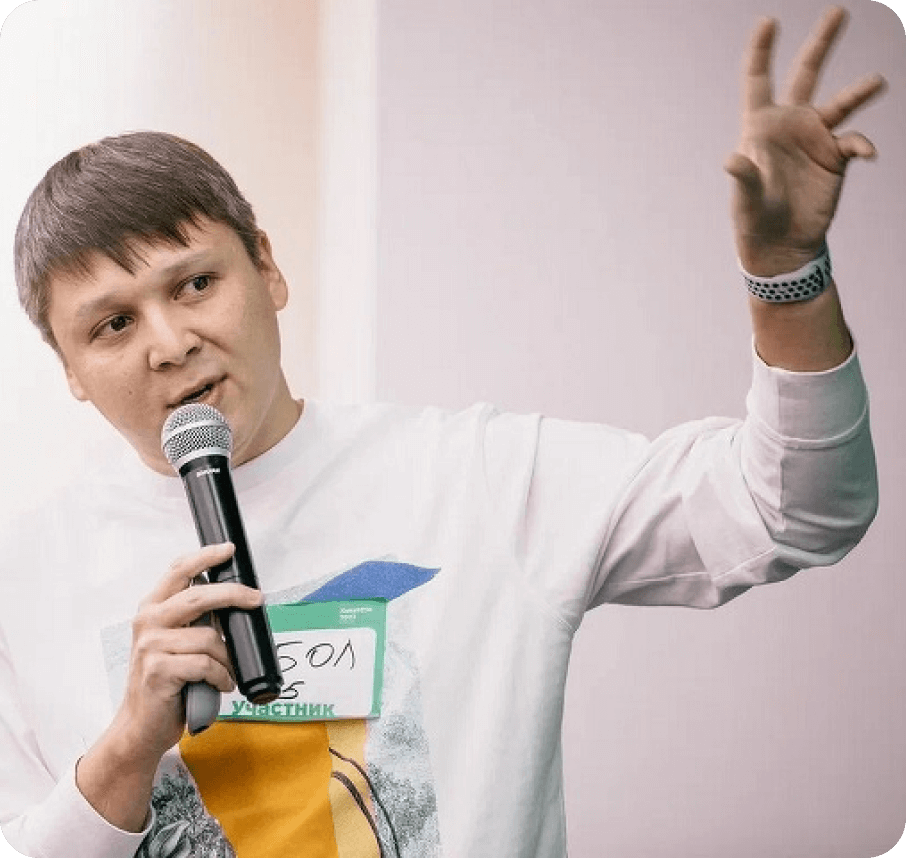 Customer Story
"Our bakery had a communication medium that used to be always busy — WhatsApp. Picture this — 60 stores order 12 types of bread at a time.
We disabled WhatsApp and started using Online Order App in Kladana.
We created personal links for each store. Thereby we no longer needed an administrator, so we managed to reduce costs for the company."
Use Cases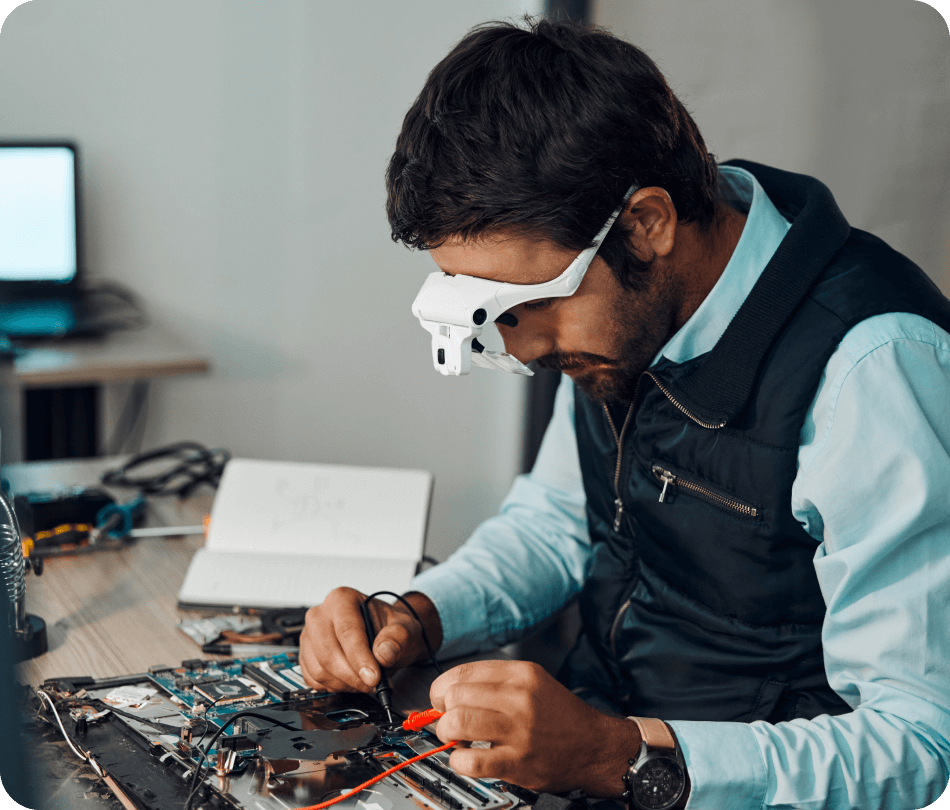 For wholesalers and manufacturers selling to both B2B and retail customers
Jivan is an electronic devices manufacturer. His main customers are wholesale buyers, but he also sells some gadgets to retail clients.
Jivan doesn't have a website or an online store. He sends Excel sheets to each new client. Sometimes prices or quantity of goods change while Jivan processes sales orders.
Using Online Order App, Jivan made two catalogue links with different prices for wholesale and retail customers. It took him less than 15 minutes to set everything up, and now Jivan receives new sales orders in Kladana.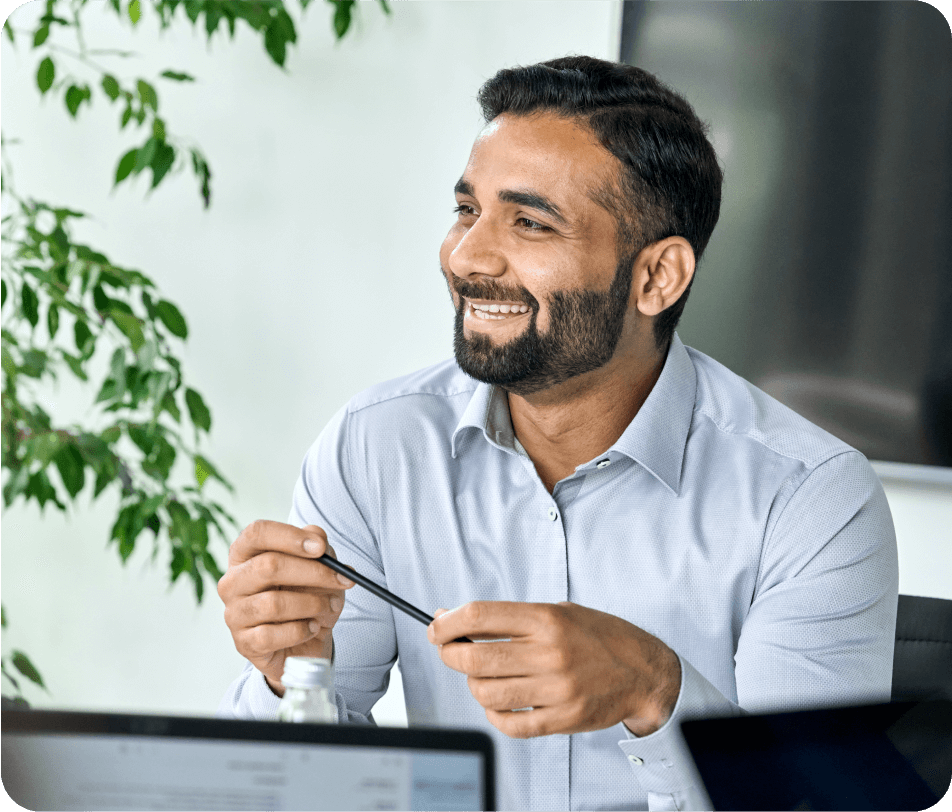 For manufacturers gathering orders
with the help of sales agents
Deshan is a stationery manufacturer. He has 10 sales agents who help him sell pens, erasers, and paper clips directly to customers. Deshan's sales agents use paper price lists which are not convenient — they mix up some orders, and clients tend to lose paper price lists.
When Deshan started using Online Order App, he created 10 separate catalogue links for his 10 sales agents.
Now they can receive orders online, and Deshan always knows who among all his agents sold more goods.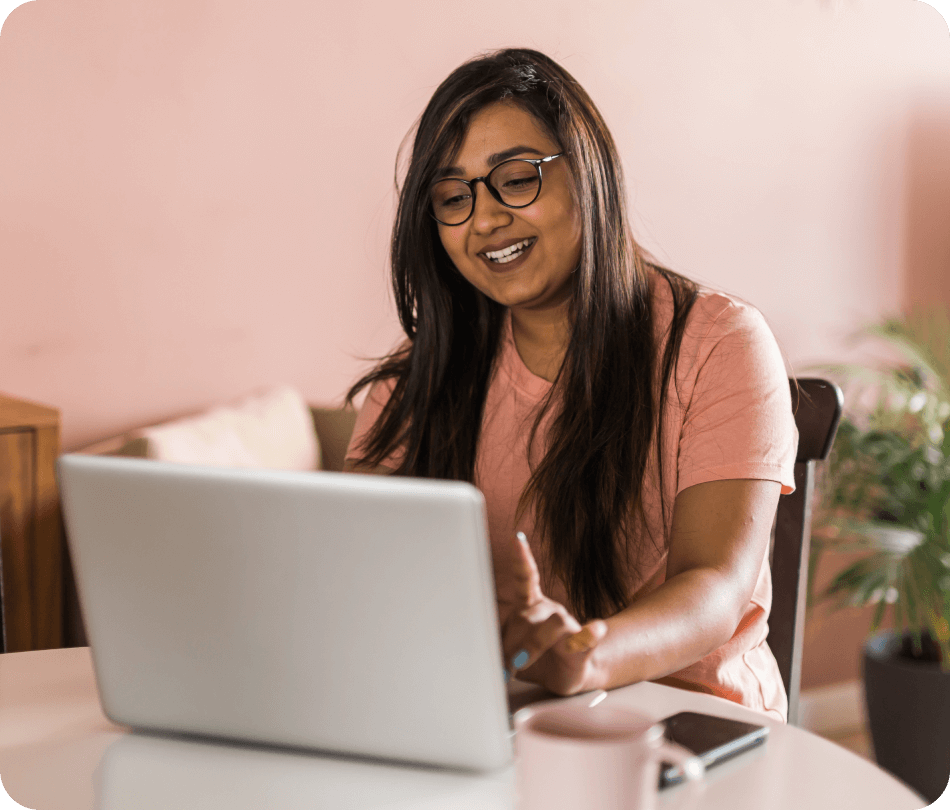 For sellers distributing goods
through Instagram, WhatsApp, or other social media
Shantai sells skirts and dresses on social media. The main showcase is on Instagram. Shantai receives new orders via WhatsApp but customers often want to buy items that are not available right now.
Shantai created one public web link in Online Order App and put it on her Instagram account.
Now, when customers want to make a purchase via WhatsApp, Shantai sends a link to her online catalogue. Customers buy only goods available in stock.
FAQ
Price & Access
The app is free for all Kladana users now. Since fall 2023, the price will be 500₹/month (+18% GST).
You have to sign up for Kladana and choose any plan in case you want to use Online Order App.
Available Links & Users
There are no limits. Any number of your customers or sales agents can use the links generated by the app.
You have two options. The first one is to create one public link for all sales agents. When placing an order, each agent indicates their data in the comments on the checkout page. The second option is to register each agent as a counterparty and generate a separate link for everybody. When placing an order, the agent who received the order will be indicated as a customer, and the buyer's data will be specified in the comments to the order.
App in Use
Put it on your website, Instagram, or WhatsApp profile, use it in ads, and Google Maps.
Send it to your customers via messengers or emails.
They will see it almost immediately.