Warehousing
Use one or a few warehouses for storing goods in different locations, try bin storage, do inventory counting manually or using barcode scanning, and print thermal labels & price tags.
All basic warehouse operations:
receiving & shipment
returns, transfers &
write-offs
inventory counting.
Handy for Storage & Inventory Counting
Tidy Storage Space
Use bin storage to organize warehouse space and quickly find necessary goods when needed. Use picklists during receiving or shipment to check whether the set is complete. Print warehouse documents, price lists, thermal labels, and price tags.
Inventory Transactions under Control
Process a number of actions: stock adjustments to track a product excess or a lack found during inventory counting, write-offs to get rid of missing or damaged products, and transfers to move products between your warehouses.
Planning and analysis
Filter stock reports and stock movement reports by products, warehouses, counterparty, variant, and other specifications to be aware of what goods you have on hand, committed, or awaiting. Thus you can control your sales & purchase orders.
Talk to our Expert
We'll show you how warehouse management in Kladana will fit into
your business and answer your questions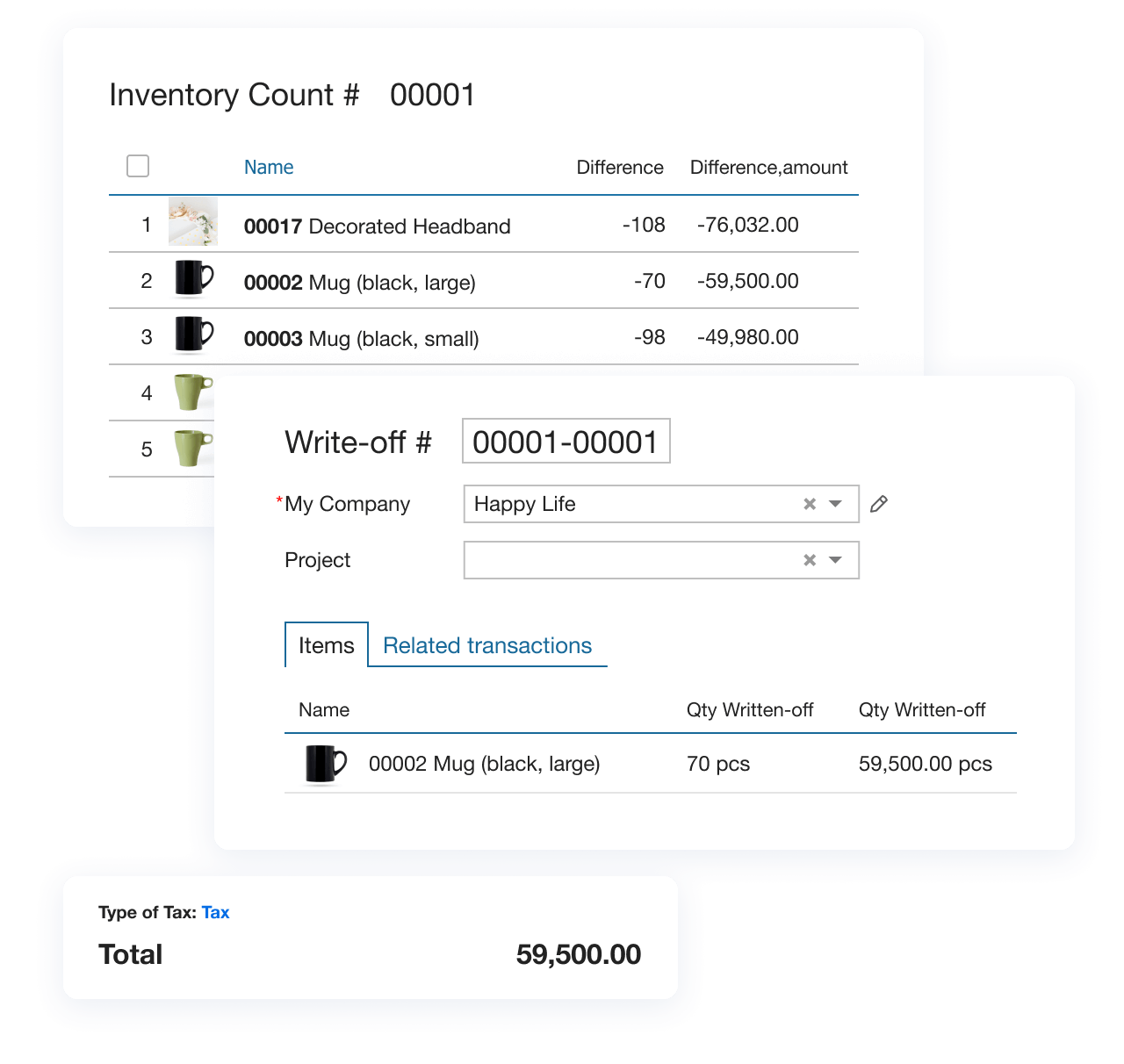 Inventory & Supply
Take inventory counts, find discrepancies, and handle them
Use barcode scanning to check goods in receiving, shipment, transfer, or inventory count
Calculate inventory days — the average number of days a company stores goods before selling them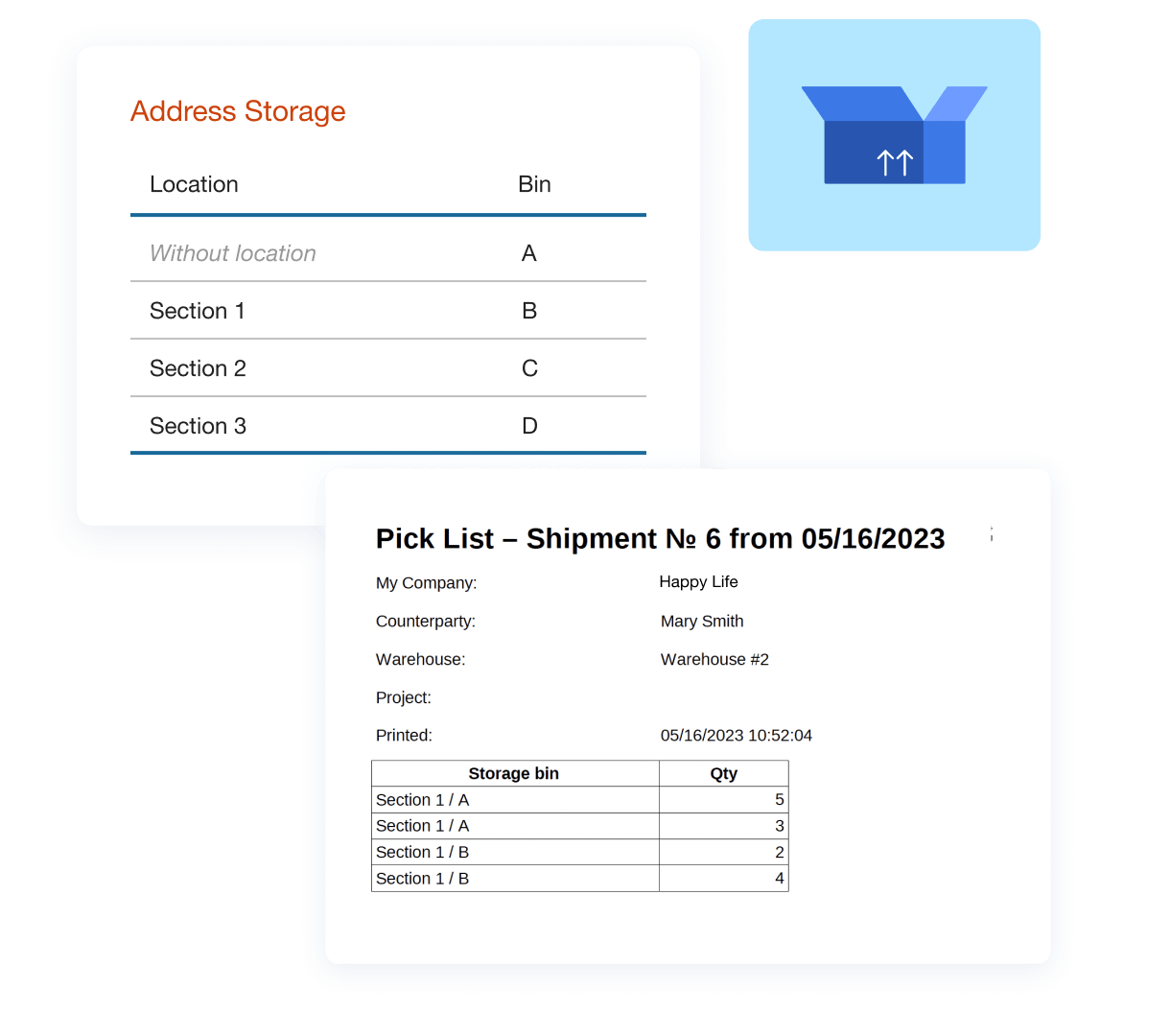 Stock Management
Use storage bins — assign bins to products, and place bins into locations inside a warehouse to find them easily
Use picklists to find necessary items quickly while preparing an order for shipment
Use negative stock restriction — thus you can't decrease on hand level below zero while creating new transactions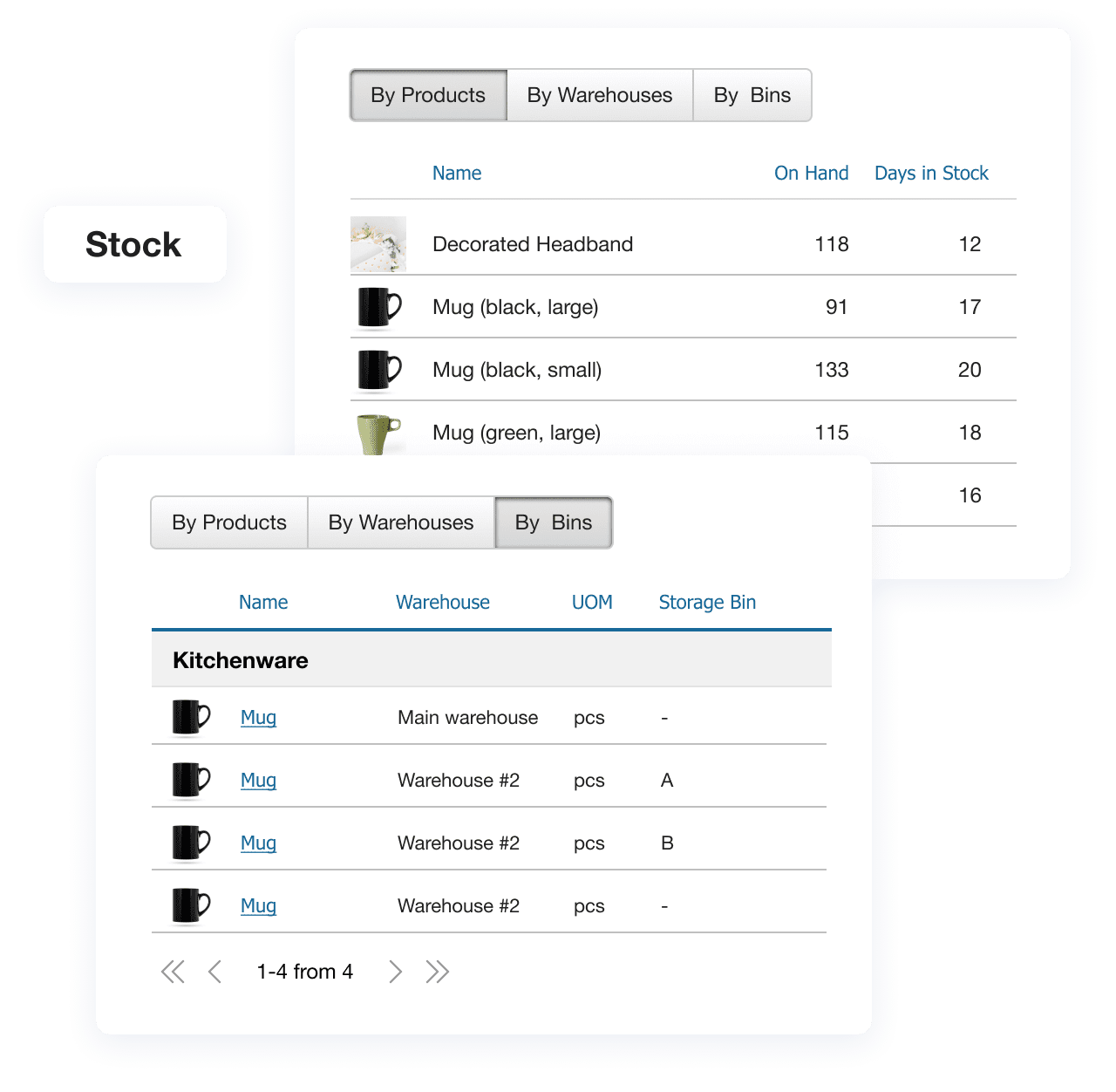 Analysis
Monitor stock levels using detailed reports
Utilize stock reports that show the state of the inventory for a specific date
Use stock movement reports that show movement for the selected period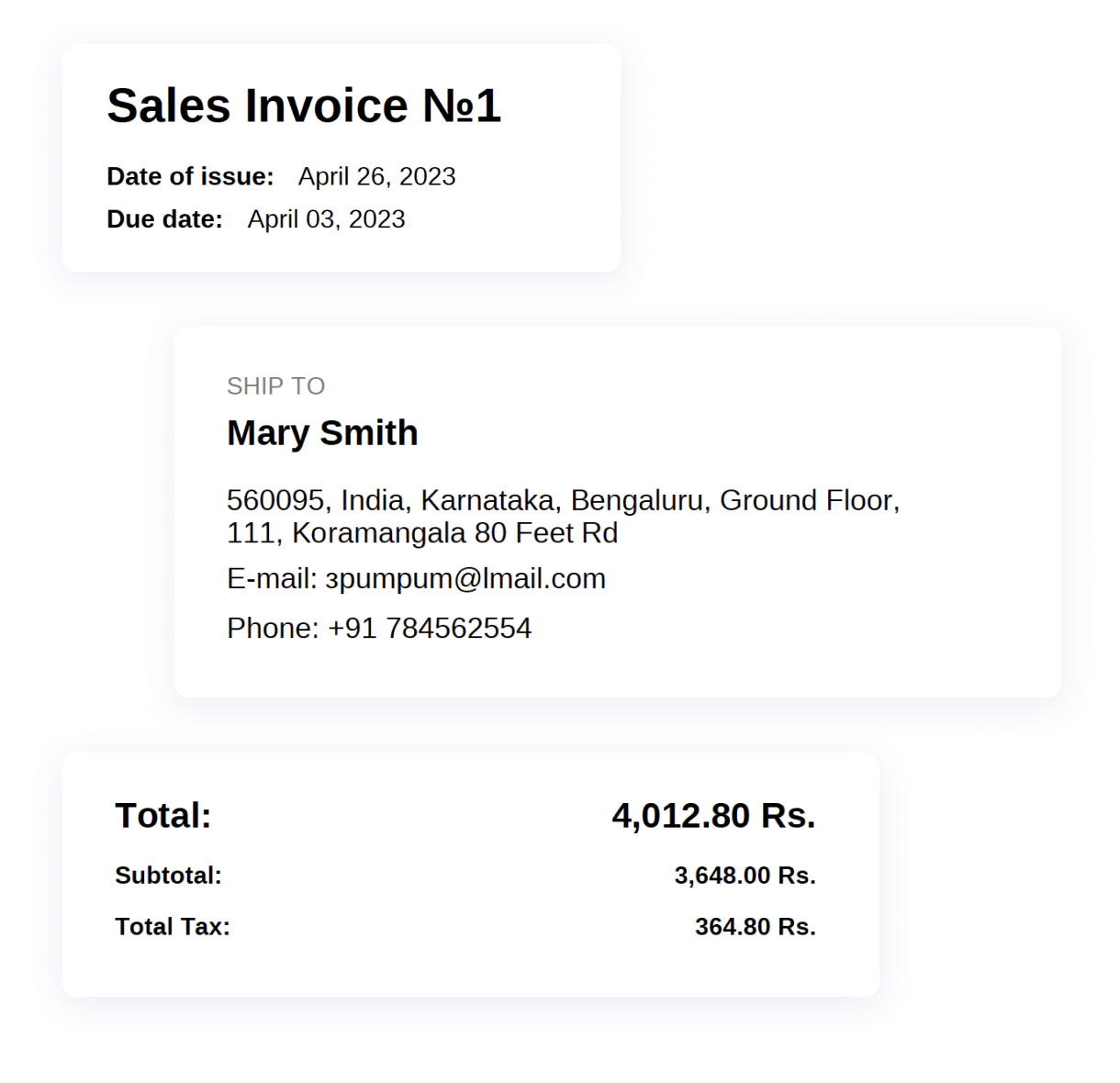 Easy Paperwork & Workflow
Create multiple warehouses, e.g. for storage of raw materials & finished goods, products in branches located in various cities, or a few retail shops
Print warehouse documents — price lists, sales and supplier invoices, and others
Print labels for all items in stock or specific receiving
No Complicated
and Overpriced Integration
Our Expert
Will onboard you, adjust
all the important settings, and answer your questions
Support Team
Will help you fix a problem or explain an exact feature to you within 2–3 working hours
Knowledge Base
You can read articles at our Help Center or watch video tutorials on YouTube
FAQ
Common Workflow
You can use Kladana having one warehouse only if it is enough for you. However, sometimes entrepreneurs have a few warehouses for different purposes — for storage of raw materials & finished goods, processing a specific production operation, counting of goods transferred to a third-party location, storing products in the company's branches in different cities, or in a few retail shops. If so, you can specify the exact warehouse you need.
Go to Settings → Warehouse, choose the necessary one, and edit its page. Here you can add locations and bins which will help you quickly find items you need. Using pick lists with exact storage bins, your employees can process receiving or a shipment much quicker. For more info,
read an article about warehouse bins (address storage).
Inventory & Stock
You can do it either manually or using barcode scanning. Prior to that, you have to assure that the necessary items are labeled with barcodes. After you complete inventory counting, don't forget to create write-offs or stock adjustments in case you find out any discrepancies.
Open stock or stock movement report. Using the filter Product choose necessary raw materials and other filters if needed. Now you can have the whole picture.
Open a sales order, and put a checkmark in Allocate order to committed stock checkbox to reserve the goods for a particular customer.
You can move specific goods from a source warehouse to a target warehouse. Additionally, you can check the number of products before a transfer.